Kimberly's Friday Favorites
Hello Friday! I can't believe February is half over! Crazy! I hope you all had a great Valentines day! I love holidays! It's so fun to do things for the kids in my life! We leave Valentines on our grandkids porches, ring the doorbell and run! We have fun, I hope they enjoy it! lol!!!
Well it's that time! Sit back, relax, kick up your feet, and grab that Diet Coke! It's time for Kimberly's Friday Favorites!
Friday Favorites
my cute husband
How can I NOT give this man a shout out! It was his turn to run the Valentines and this is how committed he is to the cause! How cute is this? This man has dressed up as a gorilla, ninja turtle and so many other characters, when I was PTA president. He is my favorite!
I can't wait to get things planted in this cute planter box!
Our high-quality resin ensures your planter box will never chip, splinter, rust, or tarnish.
Atherton designs feature timeless detailing like recessed panels and crown and cove moldings to complement your home's architectural style.
Designed and manufactured in the USA.
Do-it-yourself assembly of just four panels with a few common tools (tools not included).
Designed for the busiest homeowners, you'll never have to sand, stain, or paint your Atherton Raised Planter Box.
Our removable trays make it easy to rearrange and care for your favorite plants, herbs, and planter-friendly garden vegetables. Combat root rot and keep your planter looking crisp and white by following our drainage hole instructions included in the box.
Friday Favorites
It's Sawyer birthday in a couple of weeks, and I think he will love this!
Large Dinosaur Transport Truck – The truck is equipped with a simulated T-rex head which makes it look cooler. And the large cage allows it to capture more dinosaurs. Truck size: 35*15*20cm.

8 Realistic Dinosaur Figures – This play set comes with 2 medium Tyrannosaurus dinosaurs and 6 mini other dinosaurs. All dinosaurs can be captured into the cage. Tips: If you want to catch the bigger dinosaurs, please remove the barrier in the middle of the cage first.

Dinosaur Theme Play Mat – A dinosaur park activity play mat help kids to build their own dinosaur world easily. Mat size is 70*80cm, it is large enough for 2-3 kids to play on the ground.

Durable and Safe – All dinosaurs and truck are made of durable and BPA plastic; mat is made of soft non-woven fabrics instead of thin PVC. The monster truck has four big wheel which make it more stable.

Perfect Gift for Kids – It will be a great gift for kids who love car toys and dinosaurs. Suitable for boys and girls 3 4 5 6 7 years in birthday party, Christmas or other holidays.
I'm pretty excited! We just booked a trip to Charleston South Carolina! It's been a super stressful few months and it seems to help me to have something fun to look forward too! We have had our old luggage for over 10 years and need some new luggage. This set is 37% off plus a $20 coupon!!! Great reviews!!
Warranty:Two Years Warranty. Please note that ONLY FAMILY SET has 4 pcs, please ignore the product's title and select the set you want.

3 piece luggage set 20 inch,24 inch,28 inch upright, can be stored one into another.100% ABS, Lightweight yet extremely durable abs material.

Spinner wheels, multidirectional smooth and silent 360°wheels. Upgrade With TSA-Accepted Lock for security and peace of mind.

Sturdy ergonomic aluminum telescoping handle

Interior mesh zip pocket and elasticated,Squared full-capacity design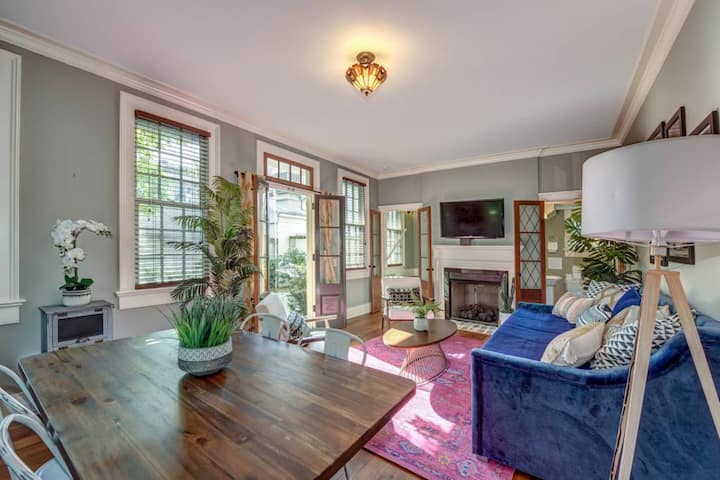 This is where we are staying! So pumped!!!
Friday Favorites